A little while ago, I noticed that my tomato pincushion was just not cutting it. It held my needles just fine, but it couldn't hold many needles. When stitching up projects that call for many colors, and for them to be used often, it helps to have some pre-threaded and waiting for you to use them. My little sad tomato was under-performing more and more.
I made a biscornu!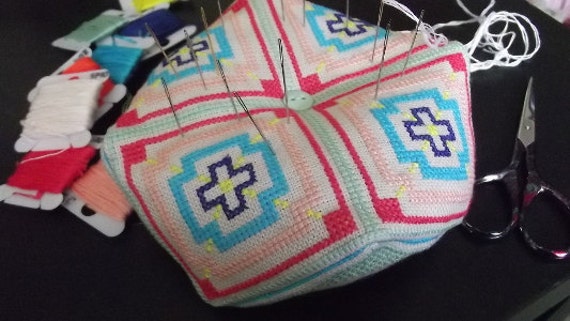 Typically, they should fit into the palm of your hand. However, I wanted it to be bigger than the old tomato. At 5″ wide, I can have multiple needles for multiple projects ready to go. I don't have to worry about it rolling underneath a table, chair, or sofa. Since S is beginning to move a lot more and at a quicker pace, I need to make sure that no needles go missing.
I'm already planning the next one, and now that my new cushion is finished, I can get back to working on my Once Upon A Time sampler! We're already up to June and I only have January finished, so I've got some work to do.